Beef
Organic Beef Lasagne
Delicious layers of rich organic grass fed beef, tender pasta and creamy béchamel sauce – all topped with a layer of golden melted cheese. Convenient for those busy days, without the guilt!
With Cleaver's Organic Beef Lasagne, you can serve up a mouth-watering meal in next to no time. Made with the goodness of 100% Australian organic and grass fed beef, this classic Italian favourite is sure to be a winner with the whole family.
Simply pop it in a pre-heated oven after a busy day and dinner will be on the table before you know it, all with no mess and no fuss. With Cleaver's Organic Beef Lasagne, you can be sure everyone will be asking for more!
This product is:
Carbon Neutral Certified
Animal Welfare Certified
Australian Organic Certified
Grass Fed and Finished
No Added Hormones
No Antibiotics
No GMOs
No synthetic chemicals
ALWAYS.
Better for you, the animals and the planet.
Water, Organic Semolina (Wheat), Organic Tomato, Organic Beef (12%), Organic Cheese (Milk), Organic Cream (Milk), Organic Corn Starch, Organic
Vegetables, Organic Milk Powder (Milk), Salt, Organic Sugar, Natural Flavour, Organic Herbs & Spices.
Contains: Gluten & Milk.
May contain: Egg.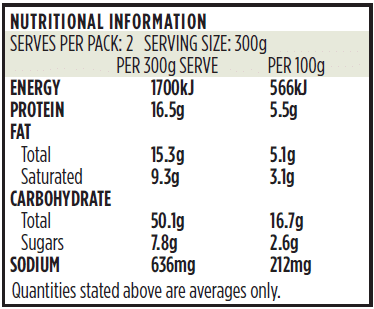 Heating Instructions:
Heating times are a guide and may vary depending on your appliance.
Pre-heat oven to 190°C (180°C fan forced).
Remove the sleeve and film, cover with foil and place product on baking tray.
Place baking tray in oven directly onto the middle rack, and heat for 30 minutes.
Carefully remove foil and heat for a further 10 minutes OR until golden brown.
Carefully remove baking tray from the oven. Stand for 2 minutes and then serve.
Do not refrigerate or reheat once heated.
Caution: Container and contents will be hot after heating.