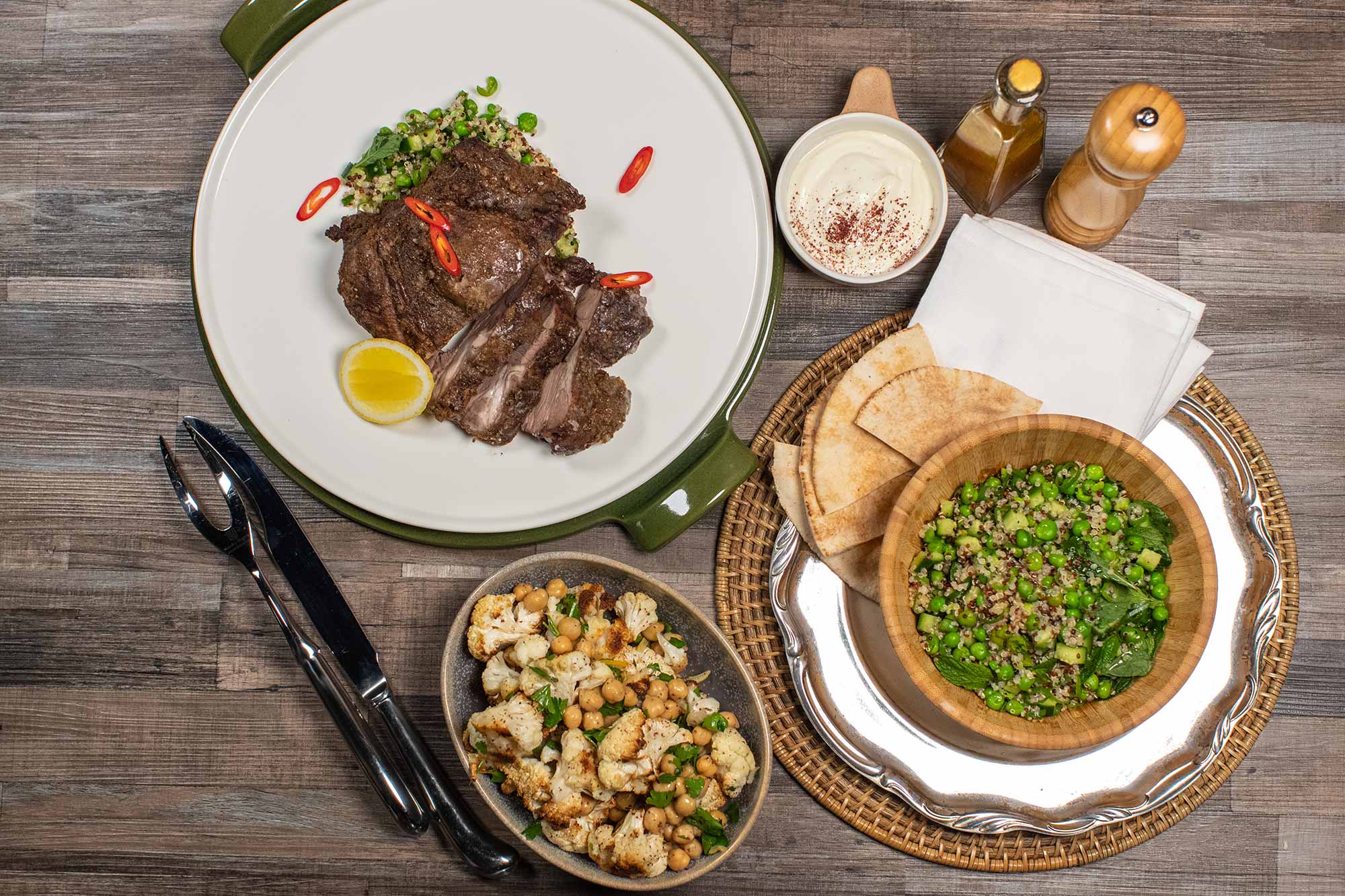 INGREDIENTS
1.5kg Cleaver's organic butterflied lamb leg
1 pkt fresh pita bread
Small tub of natural yoghurt
LAMB MARINADE
1 ½ tsp ground cumin
1 ½ tsp ground coriander
Zest of 1 lemon
2 tbsp olive oil
ROASTED CAULIFLOWER
1 small cauliflower – cut into florets
40ml olive oil
400g tin organic chickpeas
3 wedges of preserved lemon
½ cup chopped parsley
Juice of 1 lemon
2 tsp sumac
PEA & QUINOA TABBOULEH
350g quinoa
250g frozen peas – thawed
1 Lebanese cucumber
½ cup picked mint
3 spring onion tops
2 tbsp red wine vinegar
2 cloves of garlic – crushed
80ml olive oil
METHOD
Combine spices, garlic, lemon zest and oil in a bowl, then coat lamb before placing into a roasting tray and placing into a 200ᵒ C oven. Cook for approximately 1 hr.
For cauliflower salad, preheat oven to 200ᵒ C. Toss the cauliflower and 50ml oil in a bowl to coat, season to taste. Spread on baking tray lined with baking paper and roast until tender and golden brown (20-25 minutes). Transfer to a bowl, add chickpeas, preserved lemon and onion, then set aside to cool slightly. Just before serving, add remaining ingredients, season to taste and toss to combine.
For quinoa tabbouleh, cook quinoa in a saucepan of boiling salted water until tender (12-15 minutes), drain through a fine sieve. Combine in a bowl with peas, cucumber, herbs and spring onion. Toss with olive oil, vinegar and crushed garlic in a bowl to combine, season to taste and serve.
After Lamb has rested for 15 minutes, slice and serve with salads, yoghurt, pita and lemon wedges.