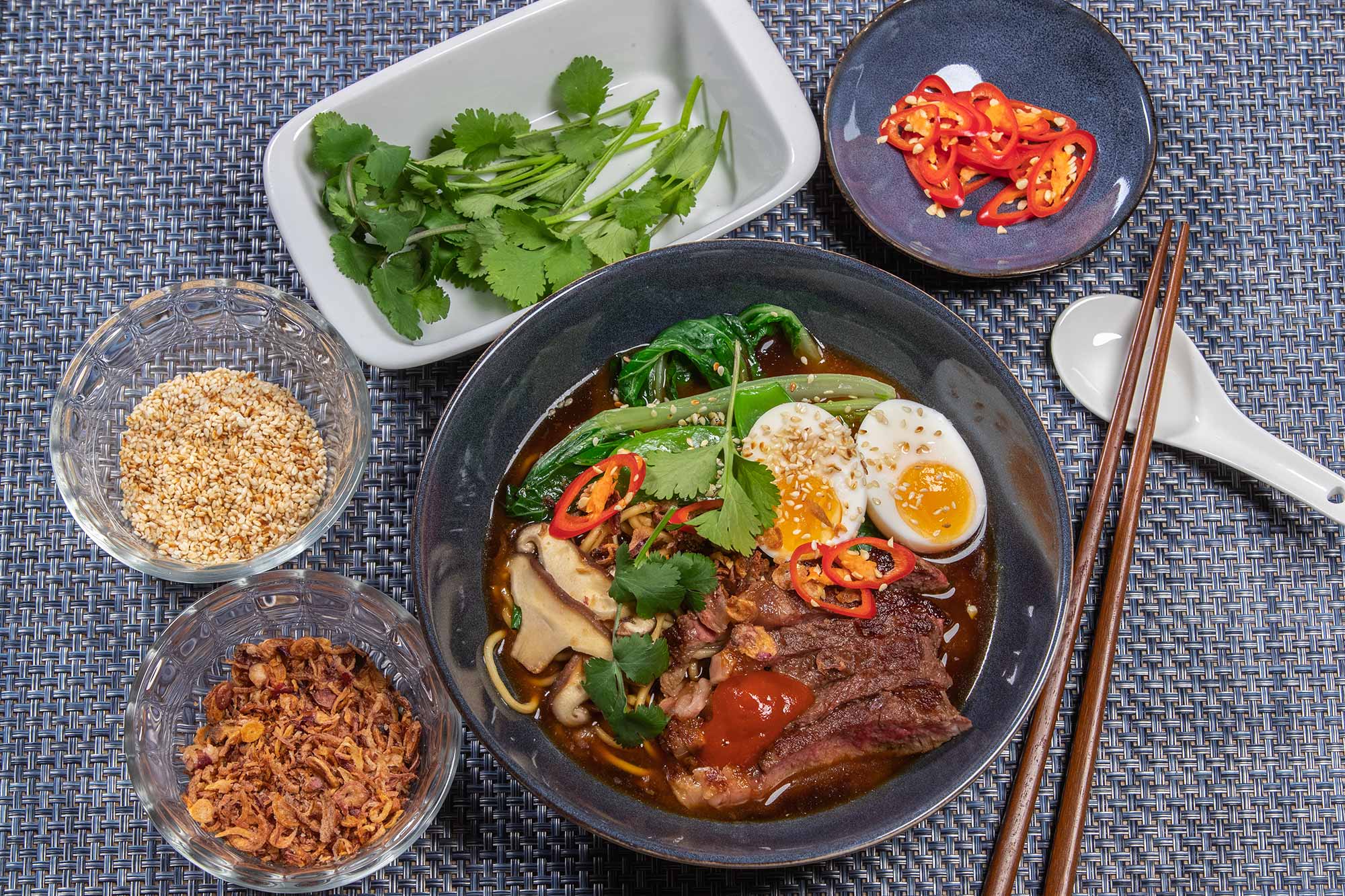 INGREDIENTS
400g Cleaver's organic striploin steak
Broth
500ml beef bone broth
250ml water
2 Tbsp oyster sauce
¼ cup soy sauce
2 garlic cloves – sliced
4cm piece of ginger – sliced
¼ cup white miso paste
2 star anise
Ramen components
4 eggs
270g organic ramen noodles
200g shitaki mushrooms
1 bunch baby pak choy
150g snow peas
Finishing touches
Sliced red chilli
Sriracha
Fresh coriander
Toasted sesame seeds
METHOD
In a medium saucepan add beef broth, ¼ cup soy sauce, oyster sauce, garlic, ginger and star anise. Bring to a boil and simmer uncovered for 15mins. Strain into bowl and keep warm.
Bring a large saucepan of water to the boil and cook eggs for 6mins, remove with a slotted spoon straight into ice water and once cool enough to handle peel eggs and cut into halves.
In a frypan place the Cleaver's Striploin steaks into a hot pan and season with salt. Once cooked to required doneness, rest steak ready to carve when other ingredients are ready.
Add noodles to the same pot of water eggs were cooked in and after a couple of minutes add mushrooms, pak choy and snow peas. Cook for 5 minutes or until pak choy and snow peas are tender.
Divide noodles among bowls and ladle miso soup and vegetables over the top.
Carve beef and eggs then add to bowl. Serve sprinkled with sesame seeds, coriander, chilli and Sriracha sauce, if desired.