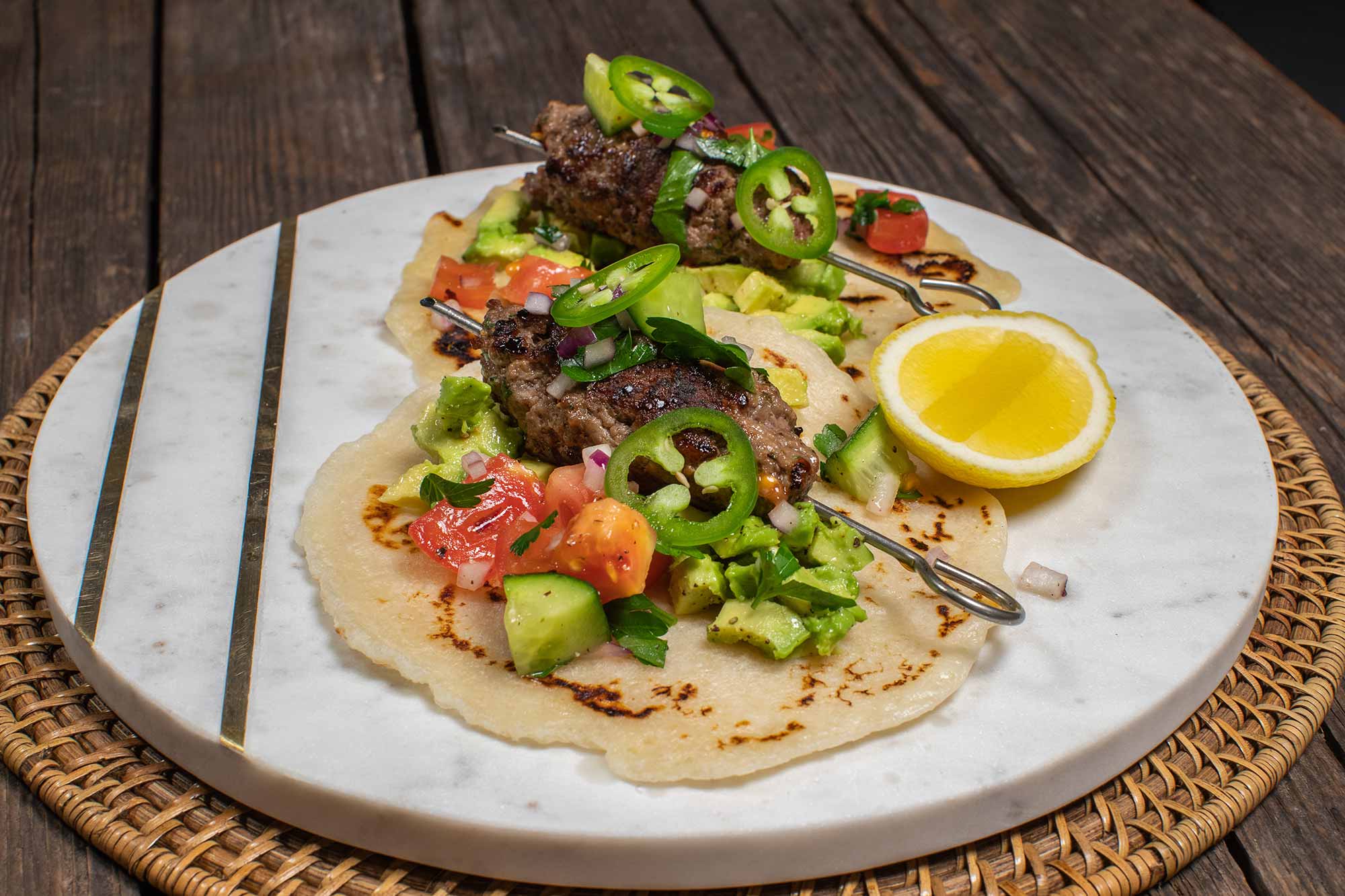 INGREDIENTS
Skewers
500g Cleaver's organic beef mince
2 tbsp mixed herbs
½ tsp chilli flakes
Pinch salt
Metal skewers
Pita bread
1 cup tapioca flour
1 cup almond meal
½ cup coconut cream
½ cup water
Salt
Coconut oil
Avocado Pesto
1 large avocado
2 tbsp Pesto
1 cheek of lemon – juice
Salsa
1 tomato
1 Lebanese cucumber
½ red onion
1 tbsp chopped flat parsley
METHOD
Heat a large non-stick fry pan over medium to high heat and add your cooking oil.
Start by making your pita bread. Whisk the listed ingredients in a bowl and season well with salt. If it is too thick, simply add a little extra water until it's easy to pour. Cooking in batches, evenly divide your batter to make 4 individual pita bread wraps. Cooking on the first side until golden brown and perfectly crispy, and stable enough to flip. Once cooked on both sides repeat with remaining batter and set them aside.
For your home made beef mince skewers, combine the ingredients in a bowl and using your hands, mix the meat with the herbs and spices until well combined. Still using your hands, mould the meat in even portions around your skewers. Using the same pan you used to make the pita, simply fry your beef skewers until cooked through, lovely and golden brown on the outside. Set aside and get into the fresh elements of your plate.
For the avocado pesto, combine your avocado, pesto and lemon juice in a bowl until well combined. For the salsa, simply mix the ingredients in a bowl and dress with some extra lemon juice.
Serve your pita bread topped with the avocado pesto, the beef skewers and a generous sprinkling of the fresh salsa.