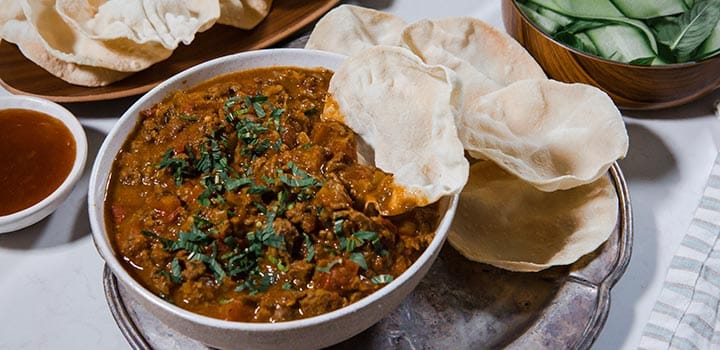 INGREDIENTS
500g Cleaver's organic beef mince
1 tbsp vegetable oil
1 brown onion, diced
⅓ cup korma curry paste
400g diced tomatoes
165ml can coconut milk
2 Lebanese cucumbers
75g bag plain mini pappadums
METHOD
Heat oil in a frying pan over medium heat. Add onion and cook for 2 to 3 minutes or until softened. Add mince and cook for 4 to 5 minutes, breaking it up with the back of a wooden spoon, until browned.
Stir in curry paste and cook for 1 minute. Pour tomatoes, coconut milk and ½ cup water over mince and stir until well combined. Bring to the boil and simmer for 5 minutes or until sauce has thickened. Season with salt and pepper.
Meanwhile, cut cucumber into thin ribbons using a vegetable peeler.
Serve curry with cucumber, pappadums, mango chutney and garnish with mint leaves.