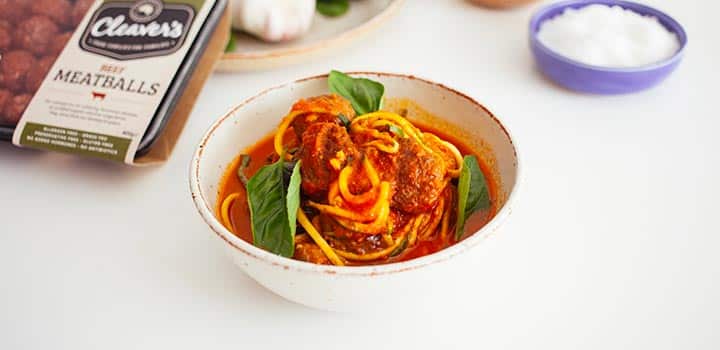 INGREDIENTS
2 tablespoons coconut oil or good quality fat
1 packet Cleaver's organic beef meatballs
2-4 zucchini, spiralised into thin "spaghetti"
2 macadamia nuts, finely grated, to serve
fresh basil leaves, to serve
2 tablespoons extra virgin olive oil
TOMATO AND BASIL SAUCE
2 tablespoons coconut oil or good quality animal fat
1 large onion, chopped
4 garlic cloves, finely chopped
a couple of pinches of chilli flakes (optional)
600g canned whole peeled tomatoes
250ml (1 cup) chicken broth or stock
a few fresh basil leaves
sea salt and freshly cracked black pepper
METHOD
To make the tomato and basil sauce, heat oil in a medium saucepan over medium-low heat. Add the onion and cook, stirring, for 10 minutes or until translucent. Add the garlic and cook for 1 minute, then add chilli (if using). Add the whole peeled tomatoes and broth. Reduce the heat to low and gently simmer for 20 – 30 minutes or until thickened, stirring occasionally. Add the basil and simmer for a further 5 minutes. Blend the sauce with a hand-held blender until smooth. Season to taste with salt and pepper.
To cook the meatballs, heat oil in a frying pan over medium-high heat. Fry the meatballs for 5 minutes or until golden, shaking pan occasionally. Add the meatballs to the sauce and simmer over medium heat for 5 minutes or until the meatballs are just cooked through. Season to taste.
Add the zucchini "spaghetti" to the sauce, gently mix through and cook for 20 seconds or until just cooked through.
Transfer the "spaghetti" and meatballs into serving bowls. Grate macadamias over the top, then sprinkle with freshly cracked black pepper and fresh basil leaves. Drizzle with olive oil and serve.