One of eight finalists, the award presentation was at a gala event for the Australian Organic Annual awards, held at the National Wine Centre in Adelaide on Friday, 17 November.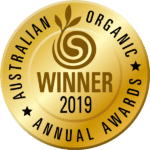 Judging was based on strict entry criteria set by Australian Organic, owners of the largest and most well-known organic certification mark on Australian shelves – the organic 'bud logo'.  This award category included a requirement that the product be manufactured or grown entirely in Australia.
Launched in May 2017, the key point of differentiation for Cleaver's Organic beef hot dogs is trust. Australians now have a hot dog they can have faith in; a traditional American style skinless 'dog' with the cleanest list of ingredients possible. Cleaver's Organic beef hot dogs contain nothing but organic spices, organic vegetable extracts and 100% Australian organic beef sourced from Australian family farms.
"We are thrilled to consolidate our organic hot dog's success in the market with such a highly regarded award," said Alister Ferguson, CEO of Cleaver's parent company.