Chicken
Organic Chicken Nuggets
These award-winning chicken nuggets are Certified Organic and Carbon Neutral. They're made with meat that comes from free range birds which enjoy the highest levels of freedom, living as nature intended.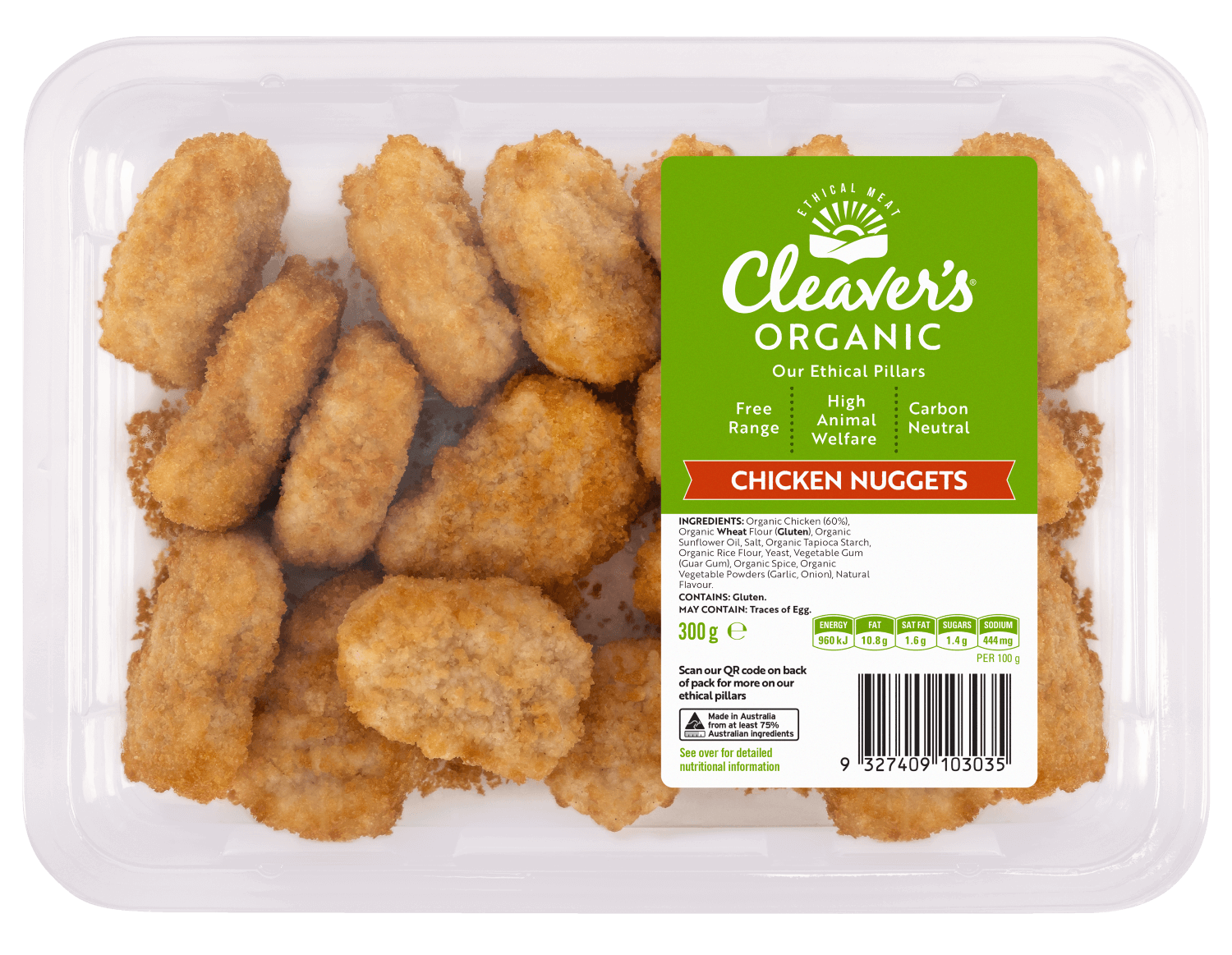 Cleaver's certified organic chicken is 100% Australian. Our birds roam freely on dedicated grass forage areas, where they can enjoy the fresh air and sunshine.
It's no wonder our organic chicken nuggets were awarded the 2018 Australian 'Certified Organic Food Product of the Year'. Try them with a side of sweet potato fries to create a healthier afternoon snack for the kids or serve them up for a quick and easy dinner.
Enjoy the completely natural flavour of real chicken with our tasty nuggets that are ready to heat and eat, but also are:
Carbon Neutral Certified
Australian Organic Certified
Outstanding Animal Welfare
No Added Hormones
No Antibiotics
No GMOs
No Synthetic Chemicals
ALWAYS.
Better for you, the animals and the planet.
Organic Chicken (60%), Organic Wheat Flour (Gluten), Organic Sunflower Oil, Salt, Organic Tapioca Starch, Organic Rice Flour, Yeast, Vegetable Gum (Guar Gum), Organic Spice, Organic Vegetable Powders (Garlic, Onion), Natural Flavour.
‍Contains: Gluten.
May contain: Traces of Egg.
1. Preheat Oven or Air Fryer to 190°C.
2. Remove Chicken Nuggets from packaging and place onto a lined baking tray or into air fryer.
3. Oven: cook for 8-10 mins.
Air Fryer: cook for 5-6 mins.
Turn product once halfway through cooking.
NOTE: cooking times and temperatures are provided as a guide only.
WARNING: great care has been taken to remove all bones and bone fragments, however some may remain.
More Recipes for…
Organic Chicken Nuggets
Need some fresh ideas to jazz up your mealtimes? Our recipe library, featuring the Cleaver's organic meat range, has all the inspiration you need to turn every meal into a gourmet delight.